Because I grow and dry a lot of my own herbs and purchase the rest in bulk, I tend to end up with a lot of unmarked baggies stashed in my kitchen cabinets or overflowing out of bowls and baskets on my counter. I'm not sure if the sight would be a DEA agent's nightmare or dream. I am certain, however, that after having to sniff-test a half a dozen baggies before finding the herb I needed recently, it was time to clean up the suspicious mess.
Once I pulled everything from the cabinets, baskets, and bowls, I realized that most of the smaller spice bottles I'd been using would no longer be large enough for my most heavily used herbs like basil, oregano, parsley, and bay leaves. I also needed to find a better way to store canning and soapmaking ingredients that I purchase in large quantities like dill seed, mustard seed, celery seed, chamomile, and lavender. Pint- and half-pint-sized canning jars to the rescue!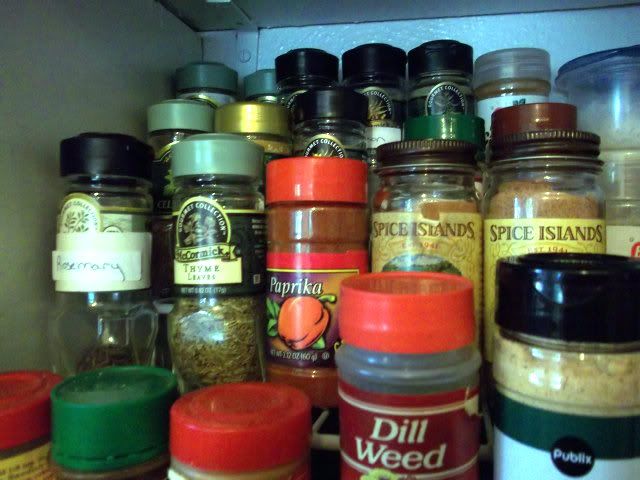 When all was said and done, the spice cabinet was refilled neatly with the smaller jars of lesser used items like ground turmeric, paprika, cream of tarter, rosemary, etc., and the larger jars were placed on an open shelf under my cabinets that used to hold decorative items and never stayed neat. So much better!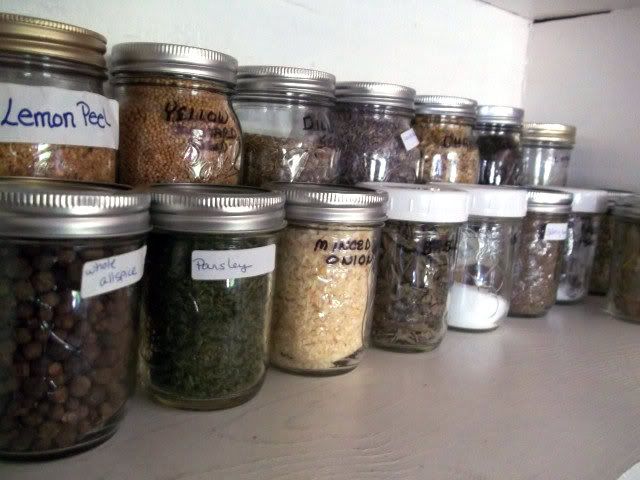 By the way, before you say anything about the herbs losing flavor when stored too long, you need to know that I use a ridiculous amount of herbs in my cooking. Most of my current supplies will be pretty depleted by the time my plants are ready to be harvested again. Plus, I store the herbs that I've dried as whole as possible, leaving plenty of flavor in the leaves that won't be released until I crush the leaves during cooking.
Thanks for stopping by! After the crazy school year we had, it really felt good to put something in order. Does your supply of herbs and spices rival a gourmet chef's or are you cautious when it comes to spicing up your food? What's your trick for keeping it all organized?
Grace and peace be yours in abundance,