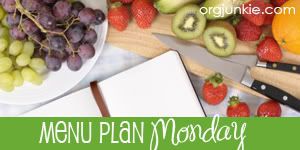 How is your summer so far? Are the kids out of school yet? If you homeschool, are you taking the summer off? Do you have any exciting plans for the summer?
We have a relatively quiet summer planned. No vacation plans, this year. The kids are going to 4-H camp for a week, but hubby and I don't have anything exciting planned. I am so far behind on a few projects I'm enjoying the idea of staying home! However, much to our son's disappointment, we will be schooling through the summer. We took last summer off (the first one in ten years). We don't need to take this one off, too. Besides, we take off some unconventional days during the school year, such as the two weeks for the Florida State Fair and a week for the Hillsborough County Fair. Schooling through the summer is not a tragedy.
Are you on the go so much in the summertime that you find yourself in line at a drive-thru or deli on a daily basis? When the kids are home all day or you're out and about playing at the beach or a park all day, it's easy to forget about both lunch and dinner. If you've planned your menu ahead of time, you can easily plan a meal that's quick to fix, can be made the day before and reheated, or packed up and taken with you.
That sounds more complicated that it really is.
Try it. You'll see.
I pray you have a blessed week with less stress because you created a menu plan!
Menu Plan for Week of 06/11/2012
Lunch
Lunch of the week – Salads, wraps or leftovers
Fruit of the week
– Apples, watermelon, mangos, cantaloupe, pineapple,
Dinner
Monday – Roast chicken, mashed turnips, salad
Thursday – Jared's Cooking Lesson: Lasagna and salad (Last week for lasagna)
Friday – Split pea soup, salad, crackers
Sunday – Grilled sausage sandwiches, French fries, salad
Thank you for stopping by!
Grace and peace be yours in abundance,