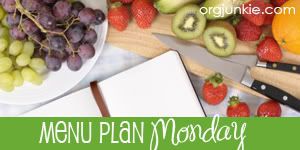 The kids have returned home from 4-H camp but would be more than happy to go back! Evidently, it was an exceptional week this year with Jared receiving the Junior Head Award and Colleen being asked to return as staff next year. Both things are pretty big honors. I'm one proud mama!
This week will be filled with garden planning, organizing my sewing room, and adding a few items to my inventory for the Saturday Market. I'll tell you more about that in a post later this week. However, for now, I'm asking everyone to please, pray for this new market. It's really having a rough start.
Jared mastered chicken enchiladas before he left for camp and decided that he wants to learn how to grill. Expect a lot of grilled dishes over the next few weeks!
I pray you have a blessed week with less stress because you created a menu plan!
Menu Plan for Week of 07/23/2012
Lunch
Lunch of the week – Salads, wraps or leftovers
Fruit of the week
– Apples, oranges, cherries, nectarines
Dinner
Tuesday – Roast chicken, mashed turnips, veggies, salad
Wednesday – Pulled pork, French fries, tossed salad
Friday – Jared's Cooking Lesson: Grilled sausage sandwiches, tossed salad
Saturday – Orange chicken with broccoli over rice, tossed salad
Sunday
–
Gumbo
, tossed salad
Thank you for stopping by!
Grace and peace be yours in abundance,