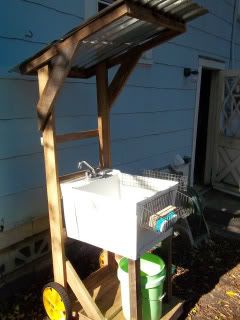 My husband and son built this wonderful outdoor sink for me this past weekend. I love it!
The utility sink used to be in my laundry room. Although it was quite useful there, we also had a few problems with it. Because of where it was, the sink usually got buried behind the laundry cart or a pile of gardening supplies. Also, most of the things we washed in it were pretty dirty. That much dirt was definitely going to eventually clog up the pipes. So, my husband moved the sink outside and made it portable.
The unit has wheels, so I can wheel it anywhere in the yard. The wheels were taken from a retired lawnmower.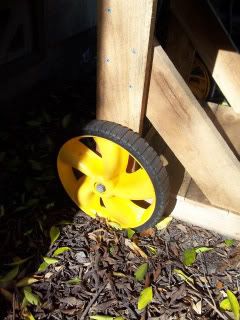 The water is supplied by a garden hose, again, making it so I can put the sink anywhere in the yard.
The drain is now a 5-gallon bucket. Again, I can put that sink anywhere in the yard AND not waste water. I love using that sink for rinsing of the vegetables from the garden. It's nice and deep. Since I don't use soap, the water can go right out to the garden. If I do use something questionable in the sink, I can decide where to dump the water.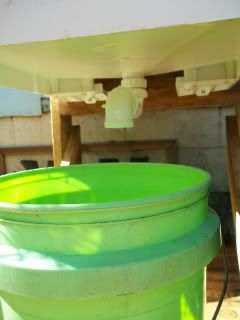 I love that my hubby used that particular bucket for the drain. We found it on the side of the road. Recycling is a good thing.
The roof and stand were made from pieces leftover from various other projects like chicken coops and rabbit hutches. Recycling is a very good thing.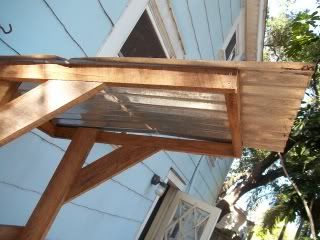 Jared made the drying racks from hardware cloth left over from building chicken coops and rabbit hutches, and the front rack for the scrub brushes was saved from a retired grill. Can you tell we like to recycle? Or is this now upcycling? I get so confused.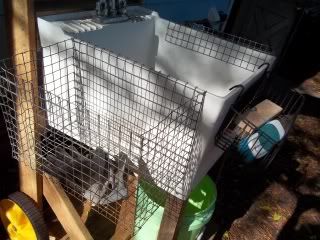 Thanks for stopping by! With the garden in full swing, that sink is going to see a lot more use now that it's outside and easily accessible. I love my handy hubby and creative son. I'm feeling pretty blessed.
Grace and peace be yours in abundance,