Whether you're canning, drying, or freezing your seasonal produce, you've probably come across a line in the directions that tell you to "pre-treat to prevent browning." Have you ever wondered how that pre-treater actually works, or why the produce browns to begin with? Probably not, but I needed something to write about today, and this is what came to me. Feel free to nap. I won't notice.
In light-colored fruits such as apples and peaches, an enzyme called polyphenol oxidase can turn the cut fruit to an unappetizing shade of brown within minutes when exposed to the air. Basically, the enzyme combines with air to start the process of decomposition. I told you it was unappetizing. Anyway, this process is called oxidation and needs an anti-oxidant to deactivate the enzyme and stop the oxidation process causing the browning. Even though canned foods that are processed in airtight jars are no longer exposed to the air, the ugly enzyme is still active and reacts with any oxygen still left in the fruit, which is why you still need to treat fruit that will be stored in airtight containers.
Browning Prevention Solutions
Dipping cut fruit in an acidic solution or cooking it deactivates the polyphenol oxidase enzyme. However, some of these solutions as well as cooking the fruit can change the flavor unfavorably. Also, remember that time is your friend. Although some solutions work with just a quick dip of the fruit, some take ten minutes or more to work.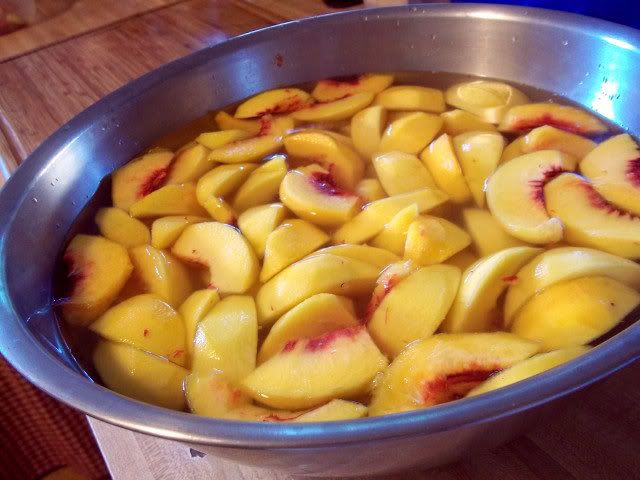 Ascorbic Acid (Vitamin C) – Ascorbic acid is probably the most effective acid for preventing browning, and it isn't known for adding any off flavors. Ascorbic acid is available as a powder in many canning or freezing sections of you favorite big box store or as Vitamin C tablets in the vitamin section of your favorite pharmacy or natural food store.
Applications: sprinkle powder directly on the fruit or crush tablets into a fine powder and toss with cut fruit, coating the cut ends well. Or dissolve 1 tablespoon or 6 crushed tablets in 1 gallon of water. Soak fruit in the solution at least 15 minutes. Drain fruit before using. Does not need to be rinsed.
Citric Acid – Citric acid is not quite as effective as ascorbic acid, but it'll get the job done without leaving any off flavors behind. It is available as a powder at many drugstores or in the specialty food section of large supermarkets. Citric acid is also used in both cheesemaking and winemaking and readily available in ships specializing in cheesemaking or winemaking supplies.
Application: Dissolve 1 tablespoon of citric acid powder in 1 gallon of water. Soak cut fruit for at least 15 minutes. Drain fruit before using. Does not need to be rinsed.
Ascorbic/Citric Acid Blends – Blends of ascorbic and citric acid are readily available at most stores that offer other canning ingredients like pectin. These blends are very effective at preventing browning and do not need leave behind off flavors; however, they may also contain other ingredients besides ascorbic and citric acids like dextrose (sugar).
Application: Use of these blends varies according to the manufacturer, but, for the most part, you can sprinkle these powders directly on the cut edges of the fruit or mix 1 tablespoon of powder with 1 gallon of water and soak fruit for at least 15 minutes. Drain fruit before using. Does not need to be rinsed.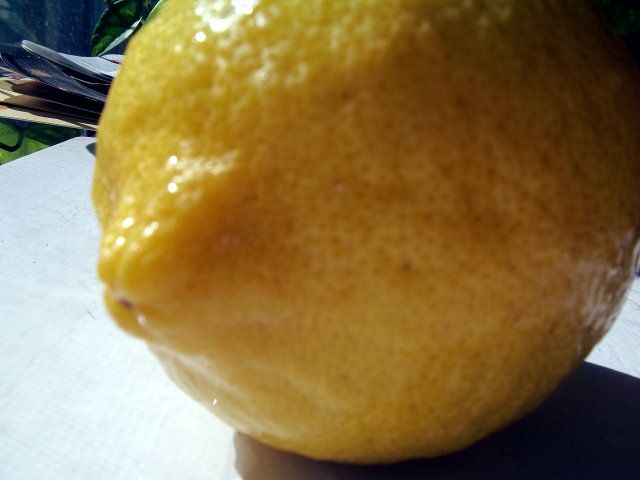 Lemon or Lime Juice – Lemon and Lime juice contain both ascorbic and citric acid, but are not as effective as the powdered ascorbic acid and may add their own flavors to the fruit.
Application: Toss cut fruit with undiluted lemon or lime juice, coating the cut edges completely. Or mix 2 tablespoons of lemon juice with 2 quarts of water and soak fruit for 15 minutes. Drain well before using. Does not need to be rinsed but may leave behind lemon or lime flavor.
Salted Water – The salt will disrupt oxidation but will also leave behind a bit of a salty flavor.
Application: Dip cut fruit in salty water for 10 seconds. I do not have a salt-to-water ratio for this one, just the University of Missouri's information that it'll work. Drain. If you try this experiment, let me know if rinsing made a difference.
Ginger Ale – Ok, this one was an unexpected find and a pretty interesting idea. Obviously, the soda will leave behind a flavor, but I don't think it would be unpleasant.
Application: Soak cut fruit in undiluted ginger ale for at least 10 minutes. Since all of the other solutions require 15 minutes of soaking, I'd probably do the same here just to be on the safe side. Drain. Does not need to be rinsed.
Blanching – Cooking deactivates enzymes but also changes flavor and texture of the fruit or vegetable. Blanching is used more often for preserving vegetables than for preserving fruit.
Application: Drop fruit into boiling water for 2 minutes. Then drop immediately in ice water to stop the cooking process.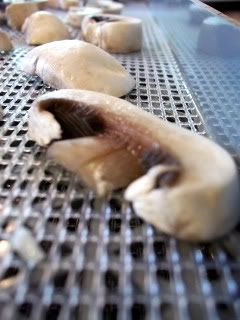 Most light-colored fruits will call for pre-treating when preserving, but a few vegetables are helped with a little pre-treating, too. Some of the most commonly treated fruits are apples, peaches, nectarines, bananas, pears, and apricots, and mushrooms and potatoes are a couple of vegetables that really benefit from being treated before canning or dehydrating.
Thanks for stopping by! I hope you found this information helpful during this busy season of canning, freezing, and drying, especially when your usual solution isn't available or working as well as you'd hoped. Until I did all of this research, I just reached for the pre-treater on the grocery shelves. I had no idea it also contained sugar! I think it's time to make a change. By the way, all of this information was gathered from the Universities of Illinois, Missouri, and Alabama and Clemson University Cooperative Extensions. I am always amazed at the wonderful information readily available at the extension office!
Grace and peace be yours in abundance,
Betty