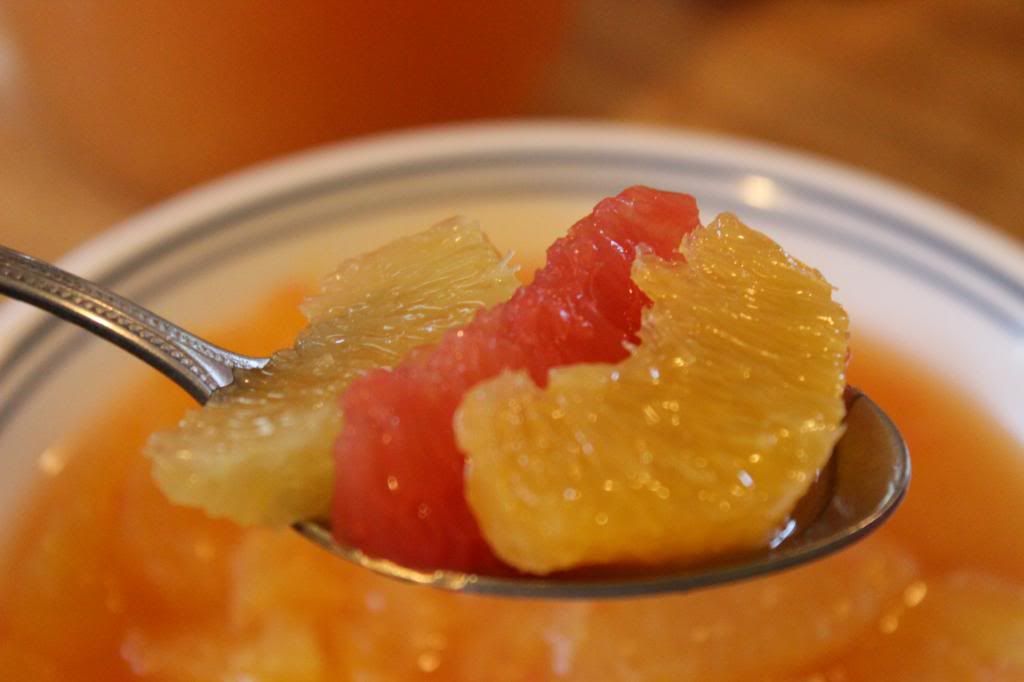 We are still in citrus season here in Florida. Backyard orange and grapefruit trees are full of fruit. U-pick groves are offering great deals, and even the produce stands have oranges and grapefruit reasonably priced. Unfortunately, the season doesn't last long. When it's over, we're stuck with citrus that's been trucked across the country or worse, flown around the world.
Over the last year, I've really focusing on canning or dehydrating more practical foods. Instead of 30 jars of peach jam, I only put up about a dozen and then canned the rest of the peaches in a light simple syrup. I did the same with pears and pineapple. So, of course, I put a few jars of oranges and grapefruit to enjoy when the price of fresh oranges sky-rockets again.
Canning oranges and grapefruit is as easy as canning any other fruit, except the prep work is a little more time consuming. Thankfully, my dear hubby found a
great method for peeling and sectioning
the fruit quickly, and he peeled ALL of the oranges and grapefruit that I canned. Yeah, he's a keeper. Sometimes I think he enjoys the canning and food preservation as much as I do!
Canning Oranges and Grapefruit Sections
Select firm, mature, sweet fruit of ideal quality for eating fresh. Oranges retain a better flavor if canned with grapefruit. However, grapefruit may be canned without oranges. Sections may be packed in your choice of water, citrus juice or syrup. I made a very light syrup with the orange and grapefruit juice.
Quantity: An average of 15 pounds is needed per canner load of 7 quarts; an average of 13 pounds is needed per canner load of 9 pints—an average of about 2 pounds yields 1 quart.
Procedure: Wash and peel fruit and remove white tissue to prevent a bitter taste. It took my husband a couple of days to get through all of the oranges we picked at the U-pick grove and the ruby red grapefruit from my neighbor's tree. If he had been able to stay on task instead of being distracted by silly little things like a job that keeps the roof over our head, he probably would have finished within a couple of hours. Since he could only carve out small pockets of time to work on the fruit, he kept the finished sections submerged in their own juice in the refrigerator.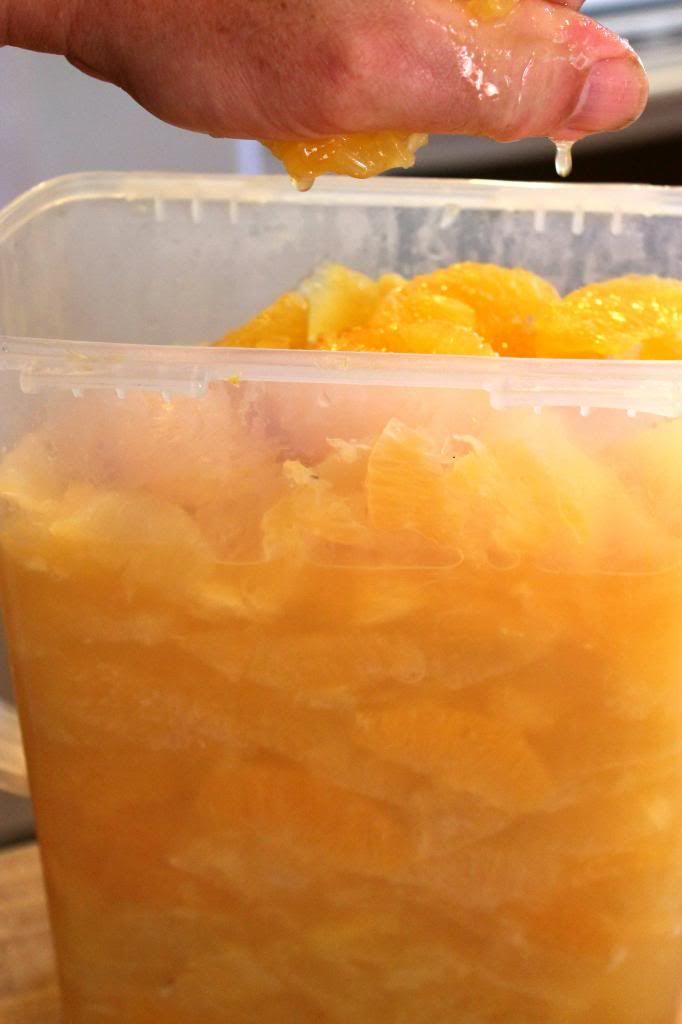 Gently mix orange and grapefruit sections together.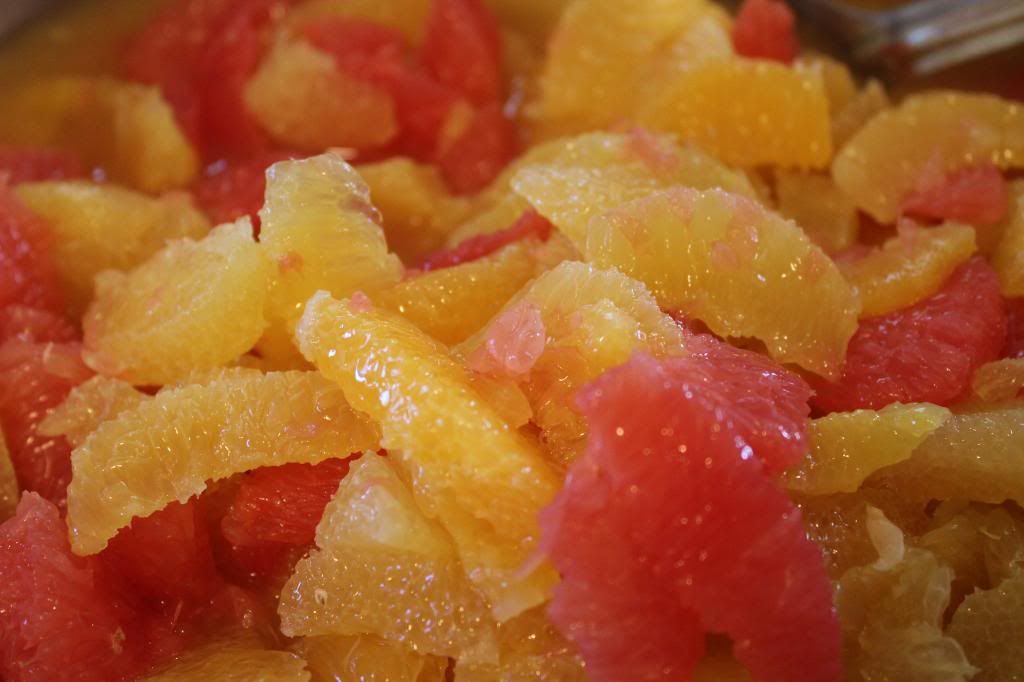 If you use syrup, prepare a very light, light, or medium syrup and bring to boil. I made a very light syrup using half water and half juice.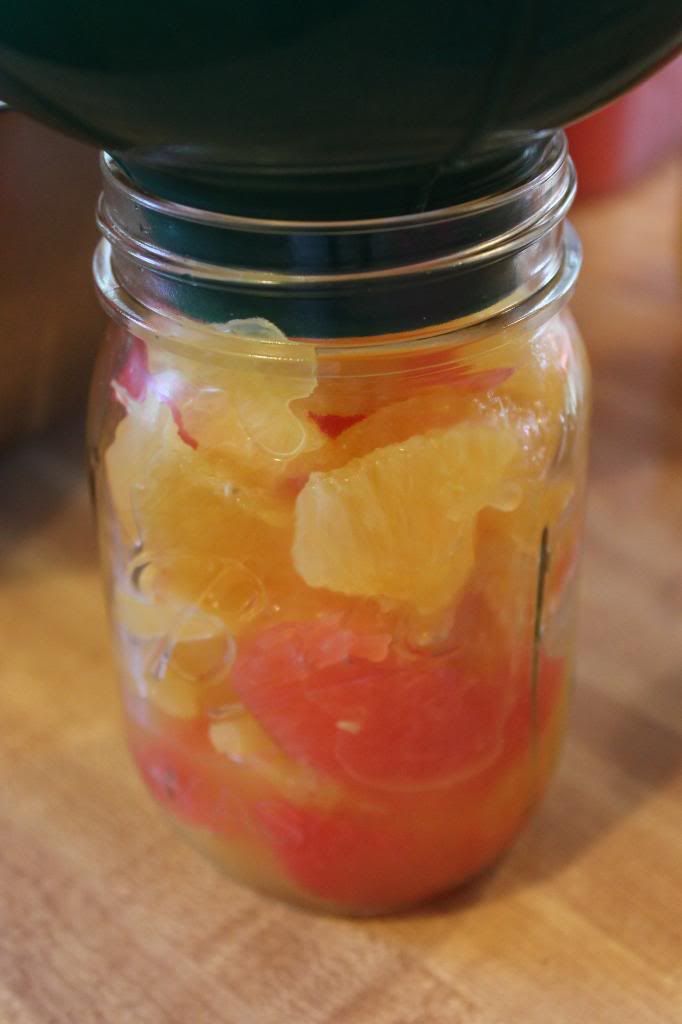 Fill hot jars with sections and water, juice or hot syrup, leaving 1/2-inch headspace. Remove air bubbles and adjust headspace if needed. Wipe rims of jars with a dampened clean paper towel.
Place jars in water bath canner. Jars must be completely covered with water. Bring to a boil and process both pints and quarts for 10 minutes. Remove lid, and wait 5 minutes. Remove jars, cool, and store.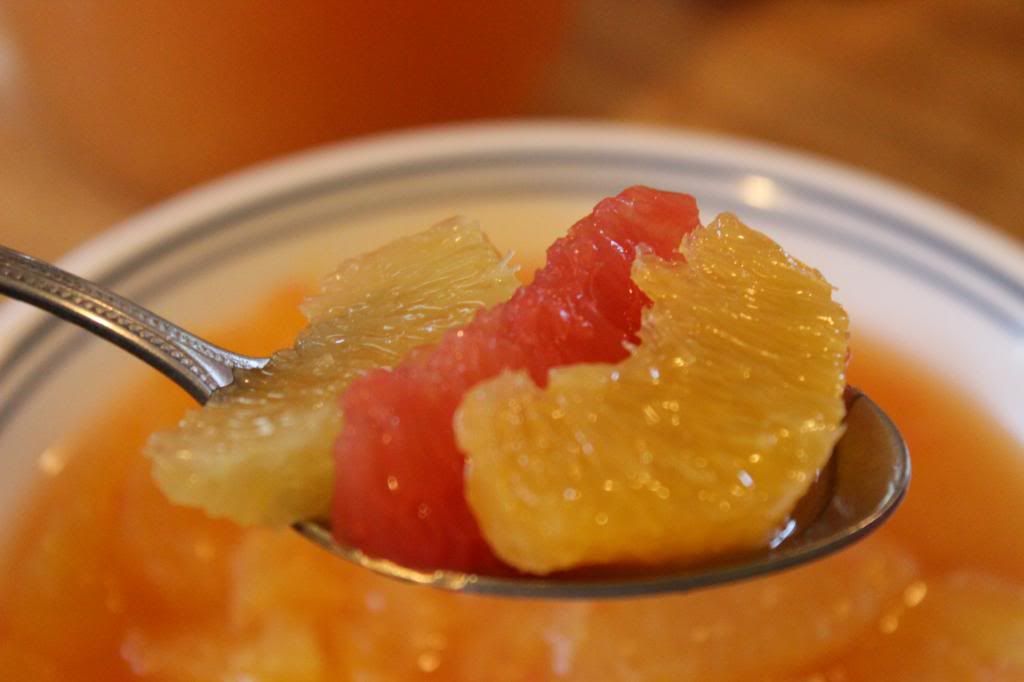 Thanks for stopping by! I love the color that the ruby red grapefruit adds to the mix. However, white grapefruit will work just as well. I used the ruby red because that's what my neighbor grows in his backyard. If he grew white ones, I'd have canned white ones. By the way, the final results are so yummy that I'm afraid I won't have enough to make it all the way to next year!
Grace and peace be yours in abundance,
Prairie Homestead's Barn Hop
Frugal by Choice's Mostly Homemade Monday
Frugally Sustainable's Frugal Ways, Sustainable Days
Raising Homemaker's Wednesday Link Up
We are THAT Family's Works for me Wednesday
GNOWFGLINS Simple Lives Thursday
Shared on Dandelion House's Farm Girl Friday
Little House in the Suburbs
Clever Chicks Blog Hop
Our Simple Farm's Simple Living
A Bowl Full of Lemons