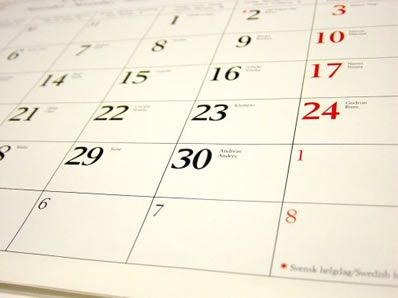 We're two days into a new year. Have you broken your New Year's Resolution yet? I'm not a New Year's Resolution kind of person. If I see something in my life that I feel needs changing, I change it. It doesn't matter what day it is.
Besides, most resolutions seem a little too vague and abstract for my concrete, pragmatic way of thinking. Don't get me wrong. I've jumped on the resolution bandwagon many times, but then again, it's pretty easy to keep resolutions like "drink more wine," "display more fresh flowers in the house," and "learn something new." Although, the fresh flower thing did bomb horribly, too high maintenance for me. I keep thinking that if you can't eat it, then what's the point of growing it? And if I am growing flowers, then it's to attract bees and butterflies for my vegetable garden, and I don't want to cut those. They're working!
The "learn something new" resolution as a no-brainer. Buried somewhere deep in my DNA is this thirst to try everything and to know and understand everything! I'm pretty sure this quest began at birth, but I'm positive it was in full swing by the time I was five and taking dance lessons while at the same time intensely watching my brothers so I could learn how to wrestle. I never did either one very well, but that never stopped me from wanting to learn. So, to make the resolution "to learn something new" would just be a bit redundant, I think. However, my dear daughter who has the same DNA, by the way, has decided to keep a journal about everything new she learns this year. Now that's going to be some interesting reading considering she's working on her degree as a Veterinary Technician.
Resolving to "drink more wine" is also an easy resolution to make. I make wine; therefore, I drink enough wine in the year. I know my limits and stay well within them.
Do I think my life is so perfect that I don't feel a burning need to resolve to change anything? Hardly. I know that there are always things that I can improve about myself. However, I don't need a new year to signify that it's time to make those changes. I simply do them when the Lord reveals them to me. That's good enough for me.
Even though I do not have any resolutions this year, I do have a few goals. The outside of the house still needs painting, and I'd like to add goats to our little urban farm soon. I'd also like to change around a couple of rooms so I can leave my sewing machine up all the time. I keep procrastinating on sewing projects because I have to set up and take down the machine every time, and sometimes that's all the time I have!
By the way, those three simple goals will probably take most of the year to accomplish! Our house is rather tall and in need of a good power washing and scraping before painting, and a bit of the trim needs replacing. Purchasing goats also means moving a few things around in the backyard and building a paddock. Last but not least, creating a better sewing space for me actually means rearranging four different rooms in the house. Have you ever done one of those sliding puzzles that have a piece missing and you slide the squares around until you make a picture. That's what this project is like. I was never very good at those puzzles. Thankfully, my husband is!
Thanks for stopping by! It's been an interesting and somewhat chaotic year for us, and I'm not sure things are going to slow down in the near future. How about you? What does your next year look like?
Grace and peace be yours in abundance,
Betty