No matter where you live, if you are growing a vegetable garden, you have regular chores that need doing. I may do my chores at a different time of year than you do, but for the most part, our garden chore list is probably the same.
January is a transition time for those of us in Zones 9 and 10. Spent plants need to be cleared away, and the soil is prepped for planting at the end of the month or beginning of next month.
In order to make the most of our small space and long growing season, we are often clearing away one spent crop and quickly planting a new one. Unfortunately, growing vegetables depletes the soil of nutrients, and growing them in rapid succession the way we do can cause some serious damage. Turning a large amount of compost into the soil and allowing the soil the rest for a couple of weeks can diminish that damage. However, after the spring harvest, let that soil rest completely until fall. We are blessed with weather that allows us to grow crops all year long, but the soil cannot keep up with that kind of production.
If you do want to grow sweet potatoes, okra, or field peas in the summertime, create plots just for those crops that you cover with rye grass in the fall and winter. Rye grass us an excellent cover crop or green mulch that helps add nutrients into the soil and fights nematodes, but only likes cool temperatures. When the temperatures start to rise, the rye grass will begin to die, just in time for planting the summer crops.
Anyway, here's the list of what's going on in our garden this month. And no, my husband and I don't spend all day, every day, in the garden. We both have jobs, plus there's the laundry and cooking and canning and 4-H meetings and homeschooling and, , and, and….you get the idea. I spend about a half an hour to an hour a day putzing around in the garden. Sometimes I even miss a day or two depending on what chore has the higher priority.
Clean up spent veggie plants: cukes, green beans, turnips, broccoli, etc. Feed healthy leftovers to the chickens. If you use organic pesticides, hose off first. If you use chemical pesticides, hose off and dump into the compost pile or the garbage can. Send diseased plants to the garbage can. Composting does not kill fungus and disease.
Harvest those ripening citrus trees, and either eat, sell, or preserve the harvest. Sometimes we do all three. By the way, when you drive through just about any neighborhood in our area, you see signs in front lawns advertising all kinds of citrus. I sell some of our lemons while my neighbor sells her grapefruit.
Prepare the soil for end-of-January, beginning-of-February plantings.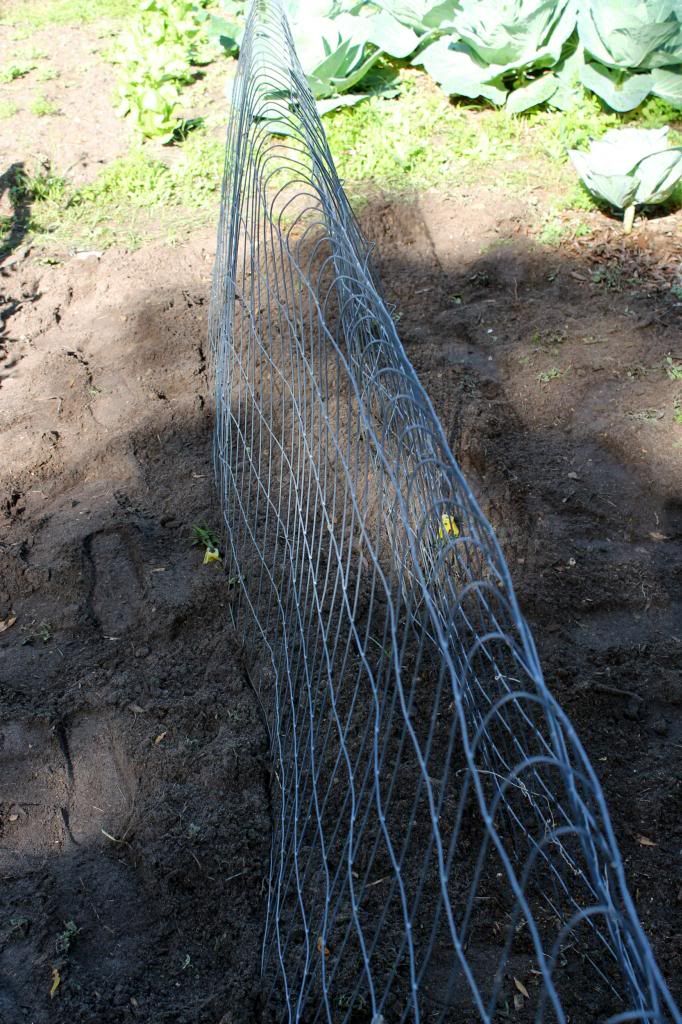 A new trellis ready for another planting of pea.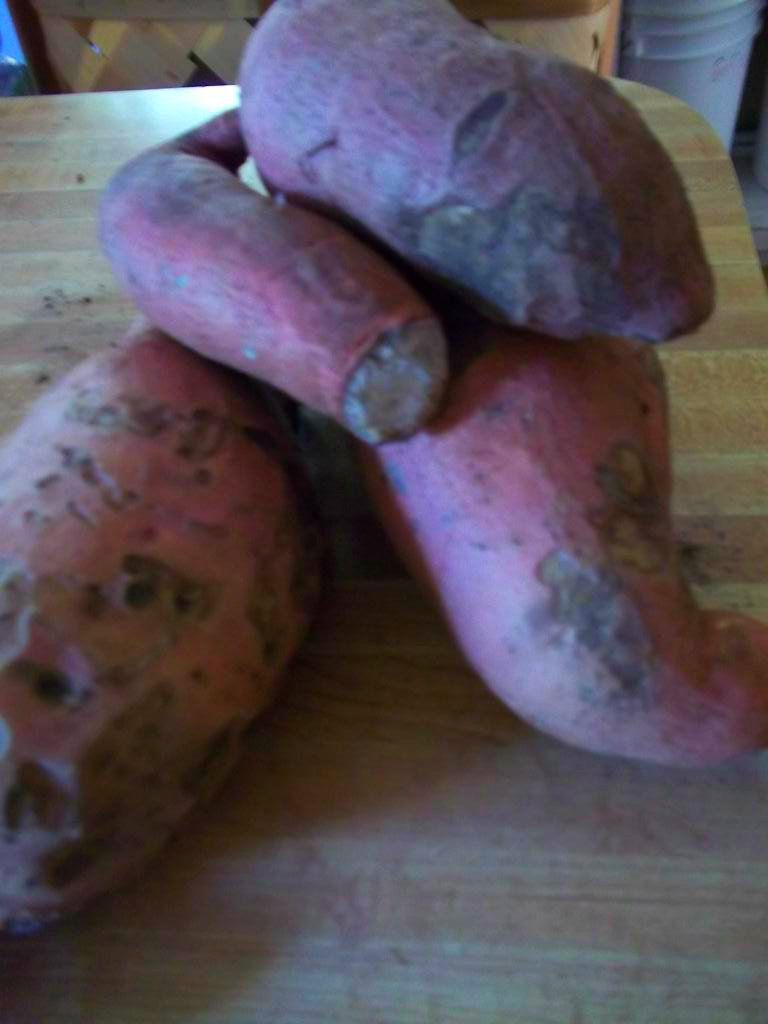 Finish harvesting sweet potatoes and cover the pot with rye grass seed.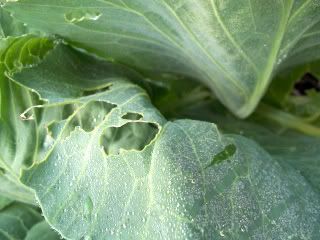 Check for caterpillar damage and spray with Bt if necessary.
Check for fungus and other diseases and spray with Neem, if necessary.
Check for whiteflies and spray with Insecticidal soap, if necessary.
Plant new fruit trees.
Turn the compost pile. Or if you're like me, make sure the worm bins are moist, add bedding, if necessary, and make sure the worms have food.
Feed container plants. In fact, container plants need constant feeding. Water leeches out nutrients and containers do not have the necessary microorganisms and elements for a naturally occurring nutrient replacement cycle found in the soil. Use compost tea to water every time if possible.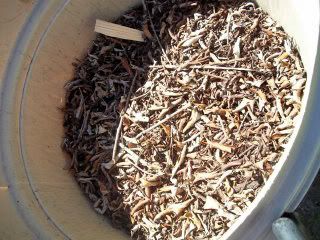 Mulch. Even though we've had an unusually wet winter, this is our dry season. Mulch helps retain water and cuts back on water needs.
Check the rain barrels for leaks.
Maintenance lawn equipment. We get very little to no rain this time of year. The grass pretty much doesn't grow, therefore it doesn't need cutting. Now is a good time to sharpen lawn mower blades, hedge trimmers, pruners, etc., and to give that lawn mower a good once over.
Thanks for stopping by! Our January chore list probably seems pretty extensive, but it really does get knocked out quickly. So far, the most time-consuming chore has been harvesting the sweet potatoes, which I have been doing since November! My front yard is bigger than I thought!
Grace and peace be yours in abundance,