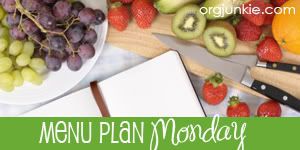 Have you ever had a recipe that you just can't seem to find the right day to make it? Yep, that happens to me, too, more often than I care to admit.
Over the last couple of weeks, halupki has been my menu nemesis. Halupki is stuffed cabbage rolls. We love it! However, it is a time-consuming recipe that involves cooking rice, browning beef, steaming cabbage, stuffing and rolling the cabbage leaves, and then simmering the rolls for an hour. Now I know why my mother didn't make it often!
Anyway, I just couldn't find a day in the last couple of weeks that I could take two hours to make dinner. After enduring last week's crazy work schedule with a smile on my face, I was rewarded with three days off in a row! Woohoo!! Hopefully, I'll be able to stay on task and knock out a bit of the big chores that have been piling up lately.
I pray that you have a blessed week. Be sure to take the time to make your menu for the week. You'll be less stressed if you do!
Menu Plan for Week of 1/14/2013
Breakfast
Lunch
Lunch of the week – Salads, leftovers, or jars of soup
Fruit of the week – Apples, oranges, dried fruit, canned fruit
Dinner
Monday – White Chili
Tuesday – Halupki (yes, I AM finally making it!)
Wednesday – Sloppy Joe's, tomato wedges
Thursday – Grilled BBQ pork chops, mashed sweet potatoes, veggies
Friday – Baked Mac and Cheese (either Colleen or Jared will be cooking. I'm working a double.)
Saturday – Chicken and vegetable stew (slow cooker meal)
Sunday – Grilled sausage sandwiches, salad
Thank you for stopping by!
Grace and peace be yours in abundance,