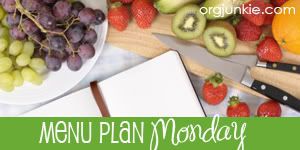 We are in the process of changing a couple of rooms in my home. My son's music area is going to become my sewing room and my old sewing room is becoming my son's music room. Isn't it funny that with just a few changes here and there, we both end up with more space? I'm pretty excited to be able to have a machine set up all the time, and Jared is pretty excited to have his drums back. I'm so glad I have good neighbors!
I pray that you have a blessed week. Be sure to take the time to make your menu for the week. You'll be less stressed if you do!
Menu Plan for Week of 2/25/2013
Breakfast
Lunch
Lunch of the week – Salads, leftovers, or jars of soup
Fruit of the week – Apples, oranges, dried fruit, canned fruit
Dinner
Monday – Beef Enchilada Casserole (slow cooker meal)
Tuesday – Grilled chicken salad, garlic bread
Wednesday – Sandwiches and salads on the go
Thursday – Chicken and dumplings (slow cooker meal)
Friday – Breakfast for dinner
Saturday – Chicken cacciatore
Sunday – Roast chicken, sweet potatoes, veggies
Thank you for stopping by!
Grace and peace be yours in abundance,